4:12 Student Ministry. Come see what all the fuss is about!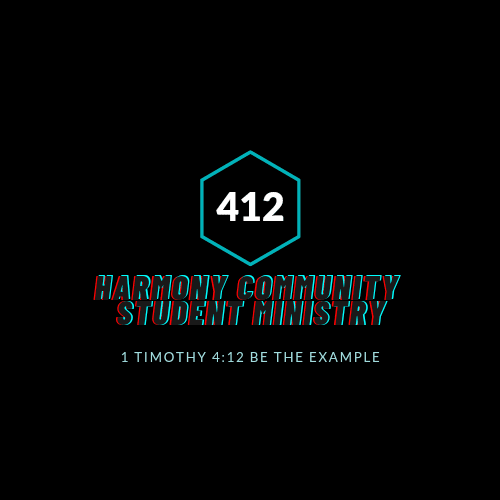 We are excited to share our time with the the Middle and High School students at our 4:12 Student Ministry Meetings. 1 Timothy 4:12 Says "Let no one despise your youth, but be an example to the believers in Word, in Conduct, in Love, in Spirit, in Faith, in Purity."
This is a great example of how a young believer should live and we hope to help the Middle and High school student achieve these lofty goals.
We meet Every Wednesday evening at 7:00pm @ 3305 Schoolhouse Rd in Harmony, to share "Real World" lessons firmly seated in biblical principles. We have fun games and OF COURSE! FOOD! Feel free to reach out and find out more about what we are all about at harmonycommunitystudents@gmail.com.
UPCOMING EVENTS:
Thanksgiving Food Drive: The students will be conducting a Thanksgiving food drive to benefit those who may not have the food needed on a daily basis, much less at Thanksgiving. There will be a box in the Lobby at each Sunday service for drop-offs and you are welcome to drop off at 3305 Schoolhouse Dr or give to any of the students involved in our 412 Student Ministry. If you send us an email we will even come pick it up for a "No Contact" donation. (harmonycommunitystudents@gmail.com)
Break-out sessions:We will be covering how to defend your faith in God, when others question it.
These break-out sessions are the 3rd Sunday of every month during the regular service.
For more information about our group or any of the events, please contact harmonycommunitystudents@gmail.com (Corey Kizziar, Student Life Director & Lisa McKee, Student Life Co-Leader)